2023 Baggage Forwarding Service
Carrying your huge luggage is a hassle on the Alpine Route. Your luggage will be transferred from one place to another on the same day.With our baggage forwarding service, have a comfortable visit without worrying about your bags!
* Rates apply per item of baggage.
※ Please pay by cash.
※If you are sending your baggage from Dentetsu Toyama Station to Shinano Omachi Station, you cannot take an express bus for Nagano and get off at Shinano Omachi. Please take a local bus from Ogizawa to Shinano Omachi to pick up your baggage and then take an express bus from Shinano Omachi to Nagano. If you are purchasing a WEB ticket with an option ticket, please select a local bus from Ogizawa to Shinano Omachi.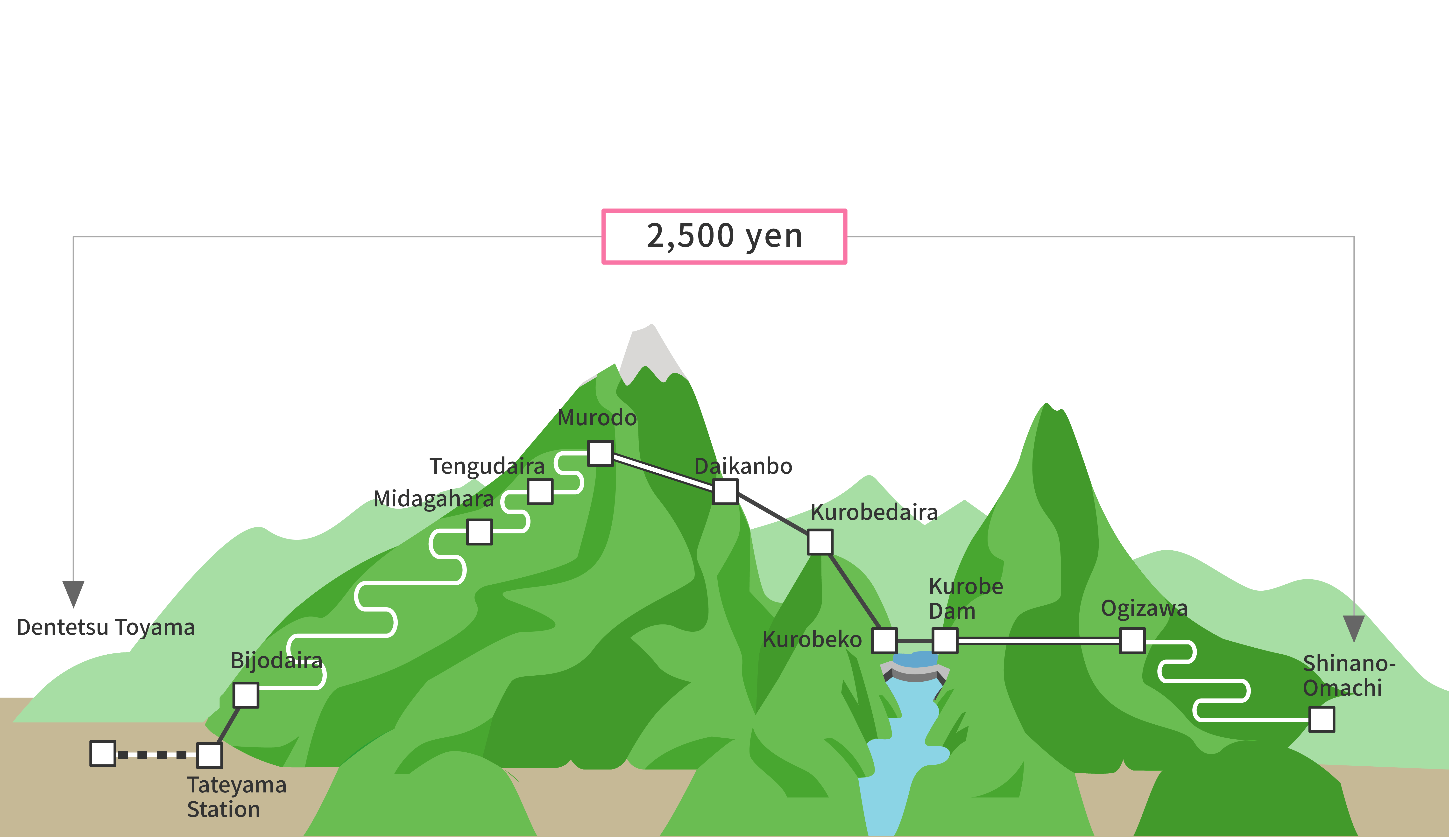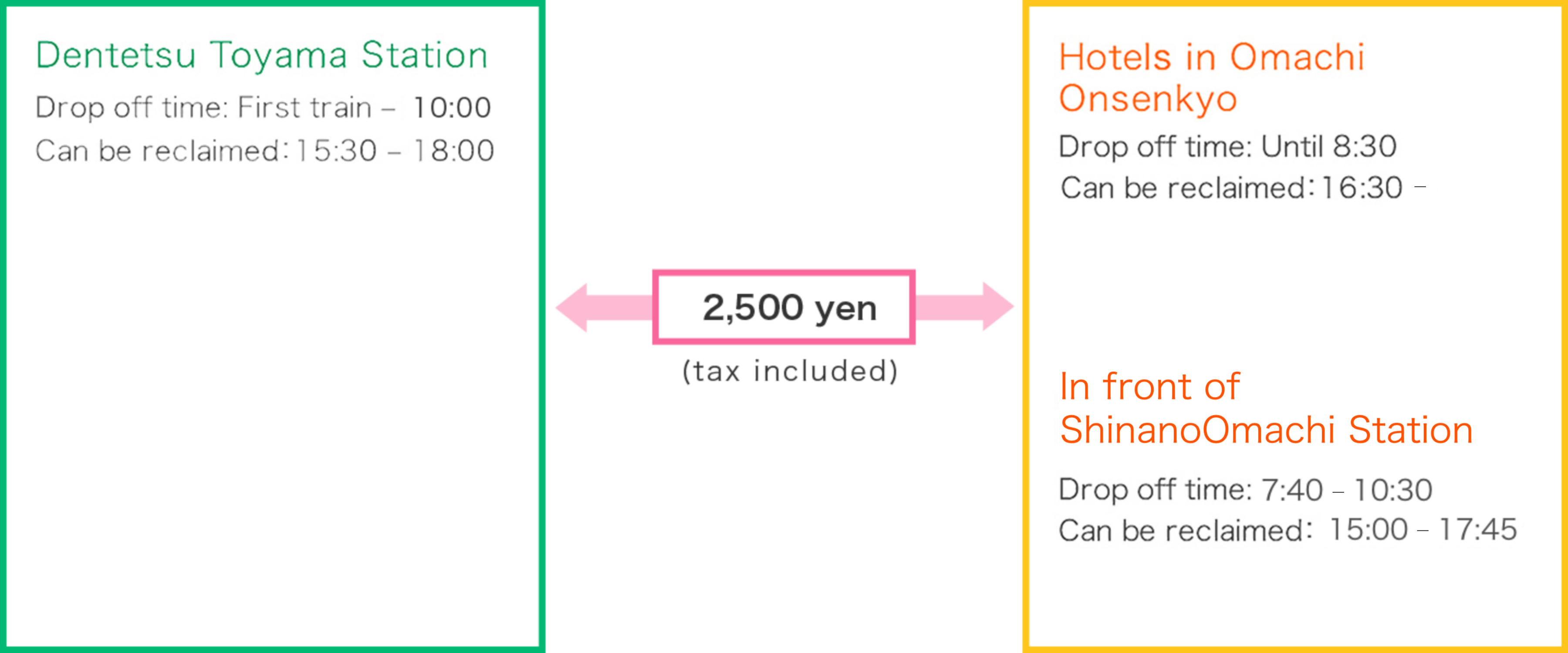 Service Period (as of 2023)
Service available : April 15th – October 31st.

Places that Provide This Service
Dentetsu Toyama Station
No reservation required. When using the baggage forwarding service, time is needed to arrange so please arrive to board 20 to 30 minutes early.
Can be reclaimed
15:30 - 18:00
9:00 - 18:00 if you pick up the next day or later
Hotels in Omachi spa (Onsen)
Hotels (you must reserve this service when you check in)
Kurobe Kanko Hotel / Ryokan Kanoya / Tateyama Prince Hotel / Oribana / Hotel Yumenoyu / Ryokusui-tei KEISUI / Kurobe View Hotel / Alpine Route Hotel / Nanakuraso / Takenoya / Hoshino Resorts KAI Alps / ANA Holiday Inn Resort Shinano Omachi Kuroyon/Furusatomura Kogeikan
JR Shinano Omachi Station(IN front of JR Shinano Omachi Station)
Can be reclaimed
15:00 - 17:45
7:40 - 10:30 or 14:00 - 17:45 if you pick up the next day or later
Contact Us
Tateyama Kurobe Service Co., Ltd., Alpine Porter Service


Caution
We cannot, and will not be responsible for baggage including cash, valuables, and fragile materials.
Skis and snowboards cannot be handled.
Please be aware that there are times when we cannot forward baggage on time due to bad weather or road congestion.
Registration and administration takes time. There are times where you cannot get on the train at the last minute. Please arrive early to check your baggage so that you can be ready to depart, at least 20-30 minutes before the scheduled time.
●Regarding disclaimers,
We are not liable for damages or delay of baggage due to the following reasons.
Baggage with defect
Fire due to inevitable
Traffic obstacles
Disaster
※There is the case that we can't accept baggage with defect as below.
Damages of fragile things.
Damages of overweight baggage.
Damages due to inherent defects in baggage such as aging.
Damages of baggage with protruded accessories.
Minor damages (scratch, cut, dent, dirt).
Damages of baggage which is not packed suitably with suitcase or other container.
●Regarding compensation,
We will repair for what is subject to be compensable.
However, there may be cases other than repair depending on the extent and timing of damages.
Please note there is the case that it may be out of compensation. (In case of applying above items)
How to Fill Out the Baggage Forwarding Tag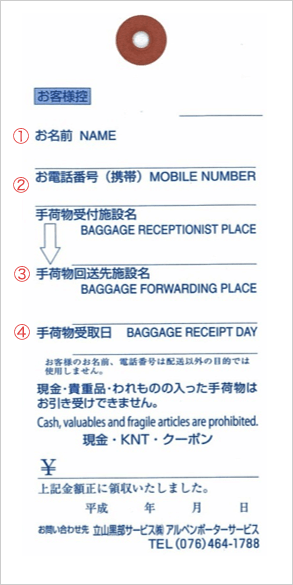 The tags are available at servicing hotels and stations.
Please fill them in using Japanese or English.
1.NAME
Guest's name (if destination is a hotel)
2.MOBILE NUMBER
Cellphone number in Japan
3.BAGGAGE FORWARDING PLACE
As some hotels have similar names, please check and write the name of your destination carefully.
4.BAGGAGE RECEIPT DAY
It is possible that your baggage will be forwarded on the subsequent day, rather than the same day.