Introduction of Alpine Route
The Tateyama Kurobe Alpine (pronounced "Alpen") Route is known as the "Roof of Japan". The route passes through the dynamic scenery of Mt. Tateyama in the Japan Alps. It is traversed using a variety of vehicles with an elevation change of 2400 meters from Toyama Prefecture to Nagano Prefecture.
Partial Cross Section
The route is approximately 90 km long and you will be impressed by the variety of scenery that can be seen in different seasons.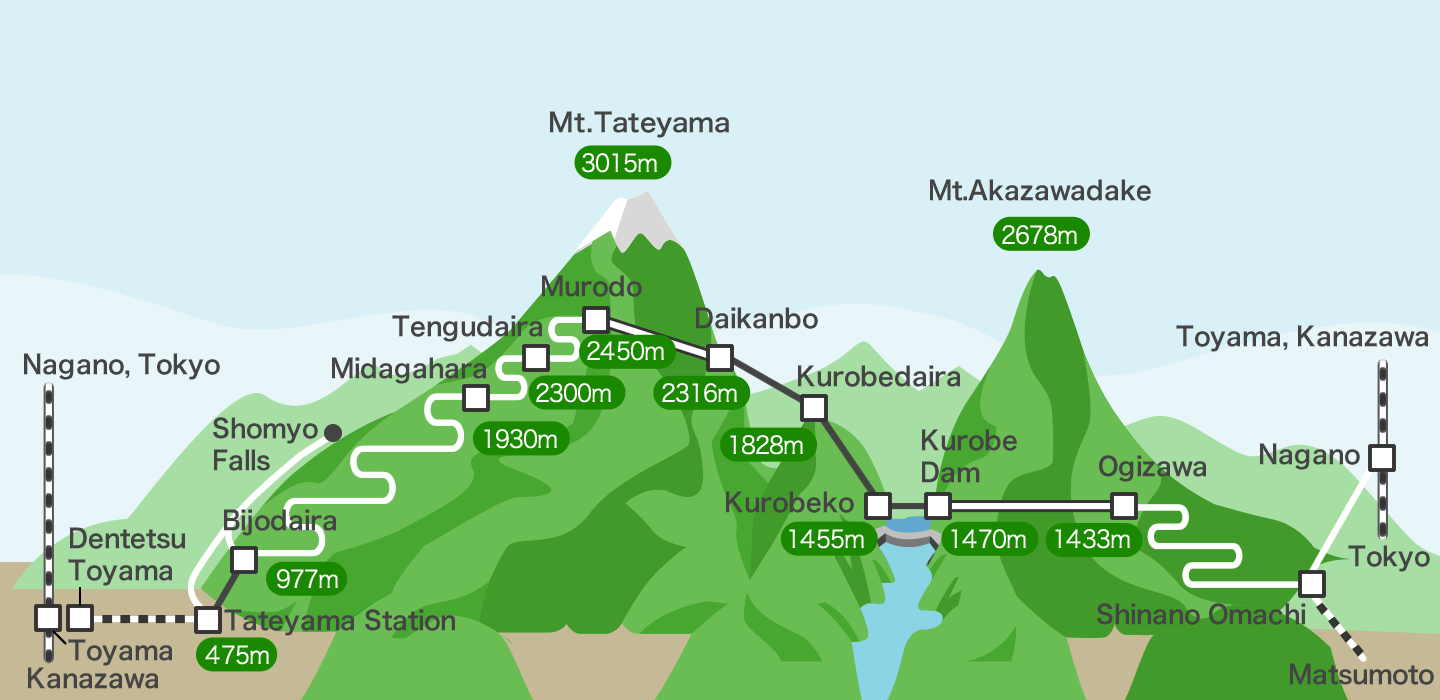 The beauty of the Alps fascinates many people, not only mountaineers but also tourists are able to experience their stunning enormity.

A panoramic view of the route crossing the Tengudaira area of the mountain range.

Impressive views can be seen just after the road is opened at the mid-April until May. After June the walls of snow become shorter but some snow remains even in August.
Location of the Tateyama Kurobe Alpine Route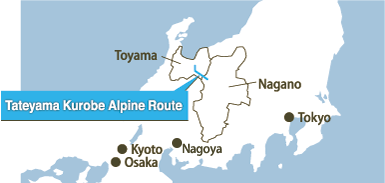 The Northern Japan Alps lie on the border between Toyama and Nagano prefectures. The Alpine Route crosses this mountain range and can be accessed from the major cities of each prefecture.
Various Vehicles Are Used along the Route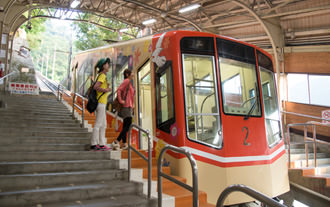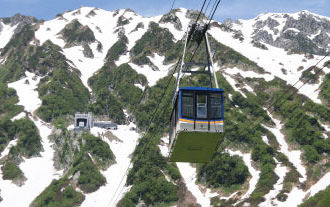 The Alpine route includes many unique vehicles. These vehicles and the seasonal changes in scenery are the main attraction of the route.
Tateyama Attracts Many Mountaineers
Tateyama has good access as a tourist site, but also provide access for many mountaineers. (Please note that you need to be well prepared before attempting to climb these mountains.)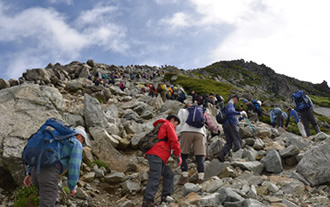 The Rich Natural Environment Is Habitat to Many Plants and Animals
Tateyama is home to many rare species of plant. It takes many years for these plants to grow and bloom.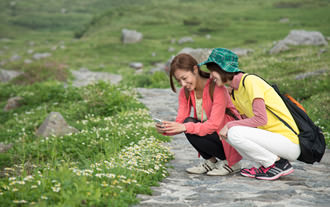 ---
The "Symbiosis" of Nature and Tourism
It is important that we protect this unique mountain environment. The Tateyama Kurobe Alpine Route aims to be the world's foremost ecological tourism site. We use electrical 'green' vehicles to keep emissions as low as possible.
Tateyama Highland Bus (hybrid 'green' bus)

Kanden Tunnel Electric Bus
Eight Japanese Number Ones
Shomyo Falls

Highest waterfall in Japan (350 m)

Murodo Station

Highest altitude station in Japan (2450 m)

Mikurigaike Hot Spring

Highest altitude hot spring in Japan

Tateyama Murodo

Oldest mountain hut in Japan

Trolley bus

The only one in Japan

Tateyama Ropeway

Longest unsupported ropeway

Kurobe Dam

Tallest dam in Japan (186 m)

Lake Kurobe cruise ship "Garube"

Highest sailing vessel in Japan
Tateyama Kurobe Alpine Route always welcomes
you to make your voyage striking and impressive!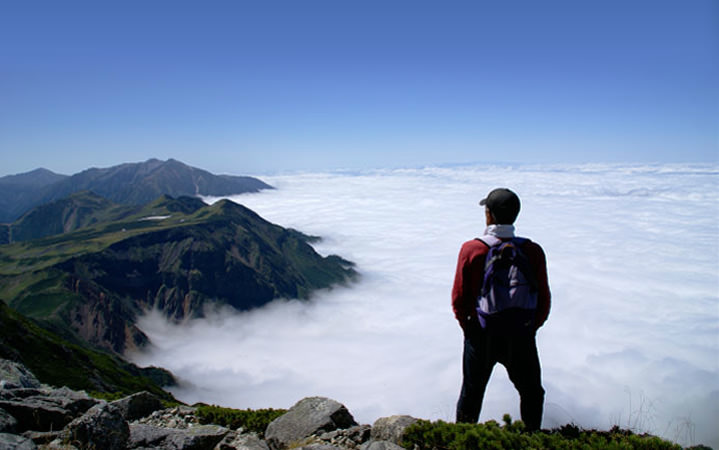 There are diverse features in every season along the Tateyama Kurobe Alpine Route. We are looking forward to your visit!