【IMPORTANT】WEB Ticket Reservation (Autumn Normal Fare) Sales Release MODIFIED
Thank you for traveling with Tateyama Kurobe Alpine Route!
We were planning to start selling Autumn WEB Tickets (normal fare) at 1pm on August 21st, however, we would like to change the sales schedule to 4pm on August 21st.
We apologize for the inconvenience and appreciate your understanding and cooperation.
Same as Summer WEB Ticket Reservation (July & August), we will sell divide sales schedule by 10 days (please see the chart below).
*We will not sell WEB Tickets for all dates at once. Please see the detail below.
WEB Ticket Reservation Details
Sales period and departure dates
Sales period: 4pm on August 21 to 3pm on November 2
Departure dates: September 1 to November 3
*We sell tickets for ten days each period. See the schedule below.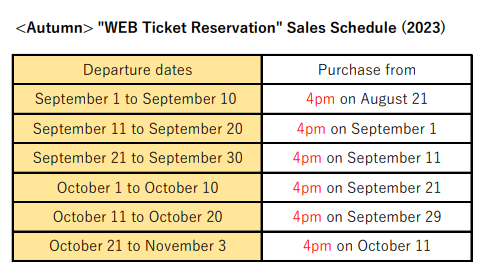 2. Traveling sections
WEB Ticket Reservation Traveling Sections
3. Fare
Standard fares for designated sections will be applied to this WEB ticket and option ticket.
Fares for individual customers (1-14 people)
4. Others
How to purchase option tickets for express and local buses
<WEB ticket> How to change or cancel your reservation
<WEB ticket> How we handle WEB tickets in case of suspention between Nagano and Dentetsu Toyama
Discount tickets for designated sections, "Autumn Early Bird Discount 10" will be sold for September 1 to November 3.
Details Autumn Early Bird Discount 10
*Sales period for autumn will be anounced when we have details.
Have an easy, convenient trip with WEB ticket reservation.
We look forward to your booking! WEB ticket page