【Part 2】Customer Appreciation Month WEB Tickets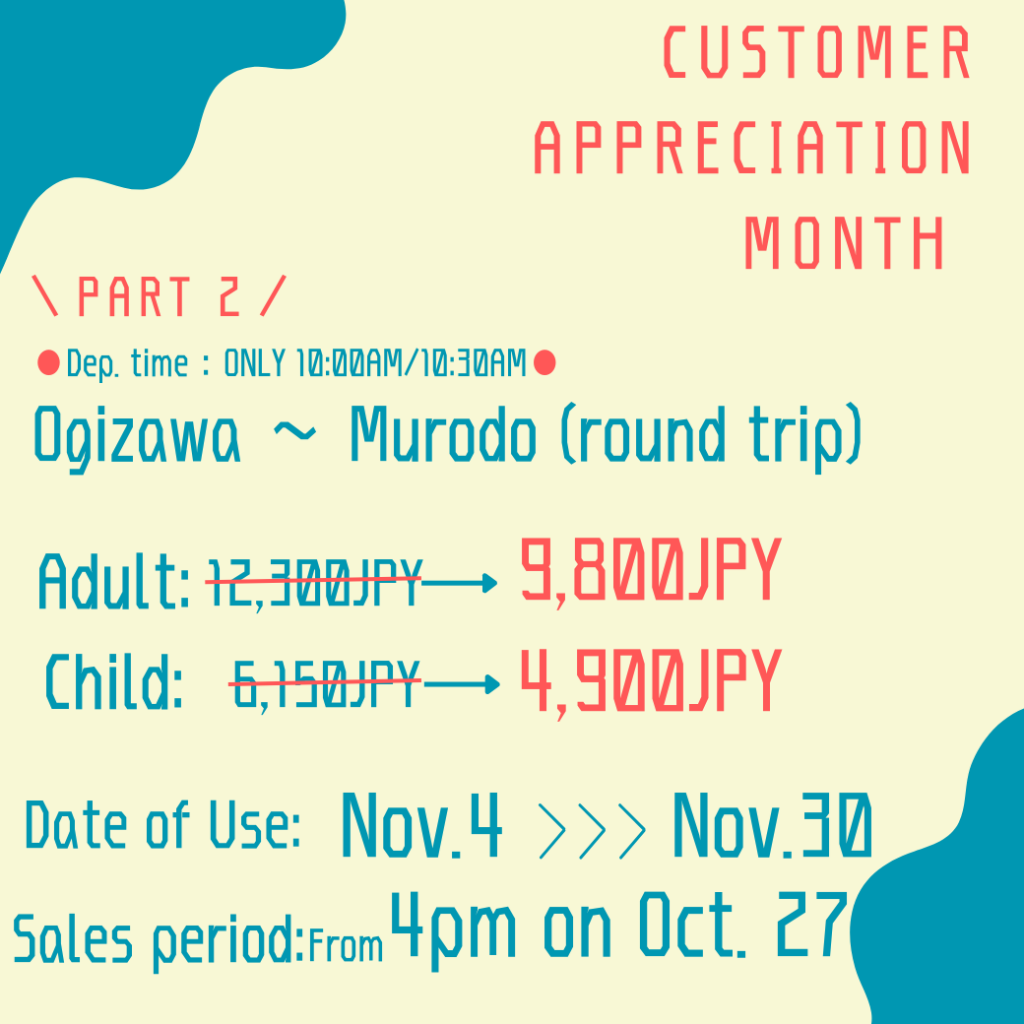 Thank you for traveling with us! Recently we have had our first snow, and you can enjoy both fall foliage and new snow all at once on Tateyama Kurobe Alpine Route. November 30th is the last day of the 2023 season. We are so happy to have had a wonderful journey with a lot of customers from all over the world. We would like to show our appreciation, and we are planning to offer you a special discount on WEB Tickets. Let's have one more amazing journey before the 2023 season ends. Don't miss this great deal!
1.Details
★★ What's "Customer Appreciation Month"? ★★
…We express our gratitude by offering you discount WEB Tickets!
The deperture time from Ogizawa on this item is available either at 10:00AM or 10:30AM.
You will need to select the departure time from Ogizawa (either 10:00AM or 10:30AM for Kanden Tunnel Electric Bus). After the electric bus, you can get on vehicles at your preferred time.
We have the winter timetable from November 4th onward, so please check the timetable, and make sure you don't miss the last bus.
<Timetable>
To Murodo: Ogizawa→Murodo 11/4~11/30
To Ogizawa: Murodo→Ogizawa 11/4~11/30
2.How to Purchase
This discount ticket can be purchased only on WEB ticket page.
*New booking cannot be made after 3:00PM the day before departure.
*This cannot be purchased at a ticket counter.
*The number of the tickets is limited.
3.<Important> Cancellation Policy
A cancellation fee will be charged for cancellation made after 3:00 PM the day before departure.
Cancellation fee: 1,000JPY per person (both adults and children)
4. Others
This discount ticket are valid for 5 days.
Due to a discount ticket, we cannot accept customer request for changing traveling sections at a ticket counter.
Please note that due to weather conditions, the items are subject to change.
You can add on option tickets for Express Bus or Local Bus if you are starting from Nagano or Shinano Omachi. See below.
How to purchase "Option Ticket (express bus and local bus)"
●<Must Do> Build your own snowman and play with new snow at Murodo
●<Must See> Panoramic view from Tateyama Ropeway

We look forward to your visit!