Samurai appearances in Alpine Route!! ~アルペンルートに侍出現
Saturday June 9th, 2018 For one day only Samurai to appear at Alpine Route!!
Group of samurai will be appearing somewhere in Alpine Route as per the schedule below.
What luck to be able to meet them! And of course, you'll be able to take some souvenir photos too!!
Saturday June 9th: Special event Warrior parade with samurai army corps
Monday May 21st—Friday June 1st, weekdays only: Samurai perfomance
※ Cancellations or changes to the schedule may occur due to reasons such as inclement weather.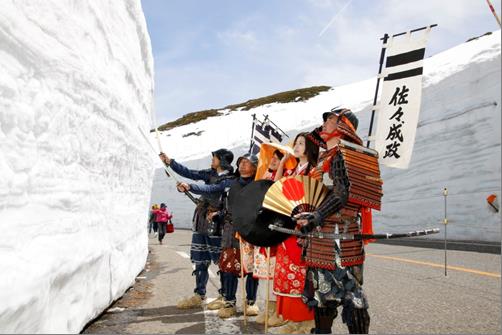 2018年6月9日(土)1日限定 立山黒部に侍出現!!
下記のスケジュールで立山黒部内に侍たちがどこかに出現します。
出会えたあなたはとても幸運です。侍たちと記念撮影もできますよ!!
6月9日(土) 特別イベント 侍軍団の武者行例
5月21日(月)~6月1日(金)の平日のみ  侍パフォーマンス
※開催につきましては天候状況等で変更、中止の可能性がございます。