2019 SNOW WALL FESTIVAL Apr.15th – Jun.22nd ~2019 雪の大谷フェスティバル~
Tateyama Kurobe Alpen Route 2019
Full route opening period :Apr 15th – Nov 30th
2019 SNOW WALL FESTIVAL 
■Opening period
From Apr. 15th to Jun. 22nd (Fee: FREE)
■Opening hours
9:30am-3:00pm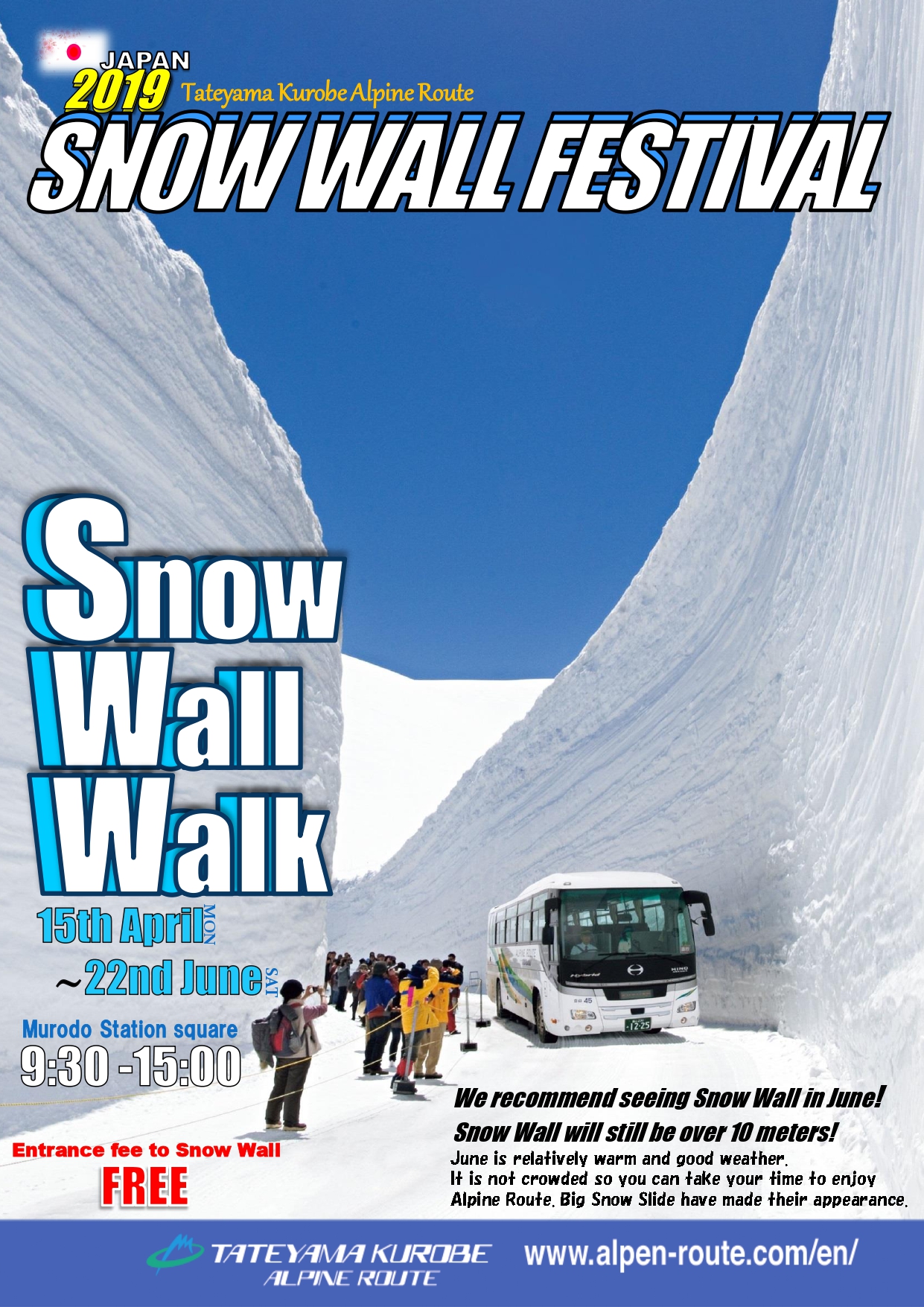 ●You must wear winter clothes during the events. We often have very snowy days and the maximum temperature will be less than 10℃(50℉)
●Bring sunglasses and sunscreen to avoid getting sunburned!
●Wearing trekking shoes or snow boots is a great way to help you walk around the Snow Wall area.
●Recommended goods… Gloves, heat pads, scarves, ear flaps, knitted hats, and other wear!
●You can not use the drone in the event area.
DISCLAIMER
■Please note that the event organizers will not take responsibility for injuries caused by accidents, falls, etc. during the event.
In addition, as the event venue is located in a mountainous area, you cannot receive immediate medical care in the same manner as in the city.
■Please follow the instructions and guidance of the staff in the event hall.
立山黒部アルペンルート2019
全線開通期間 4月15日~11月30日
2019  雪の大谷フェスティバル
■開催期間 2019年4月15日~6月22日(入場無料)
■開催時間  9:30~15:00
●イベント開催期間中は、気温が、最高でも10度以下で真冬の装いが必要です。天気が崩れると雪が降る場合があります。
●雪の照り返しが強いのでサングラスや日焼け止めも必需品です。
●室堂平周辺は、一面雪に覆われています。散策される場合、散策道はまだ雪に埋もれているため、雪上散策になるので、防水の効いたトレッキングシューズや長靴が必要です。
●あると便利なグッズ‥‥手袋、カイロ、マフラー、耳あて付き帽子
●イベント会場内では、ドローンによる撮影を禁止いたします。
イベントにおける免責事項
■主催者はイベント中にやむを得ず発生した事故、転倒などによる怪我に対し責任等は負いかねますので、ご了承下さい。また、イベント会場は山岳地ですので、都市生活におけるような迅速な医療サービスは受けられません。
■イベント会場内では、係員の指示・誘導に従って下さい。