Baggage Forwarding Service
Make your visit to the Alpine Route more comfortable with our baggage forwarding service! Your baggage will be reliably transferred from one hotel to the next with same day forwarding.
* Rates apply per item of baggage.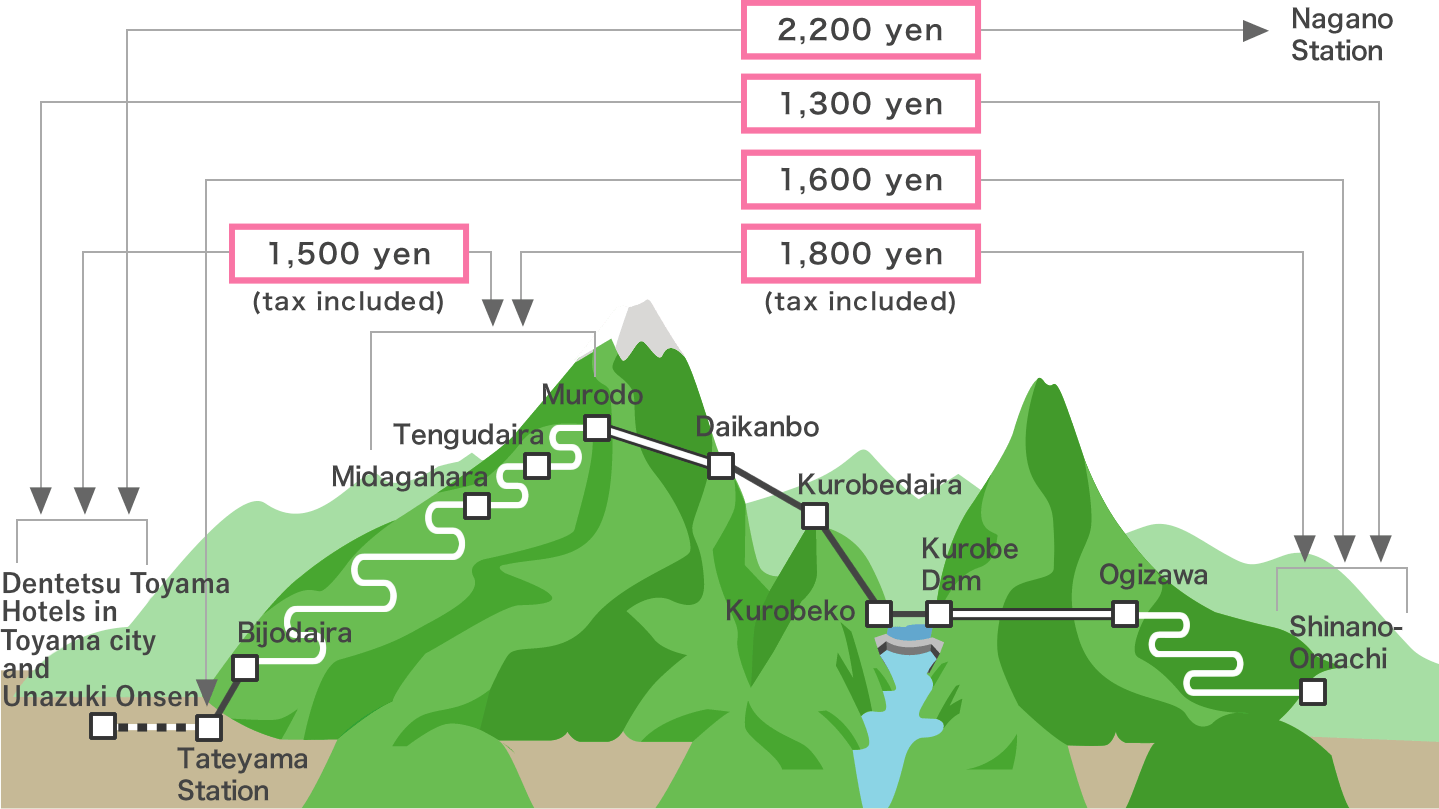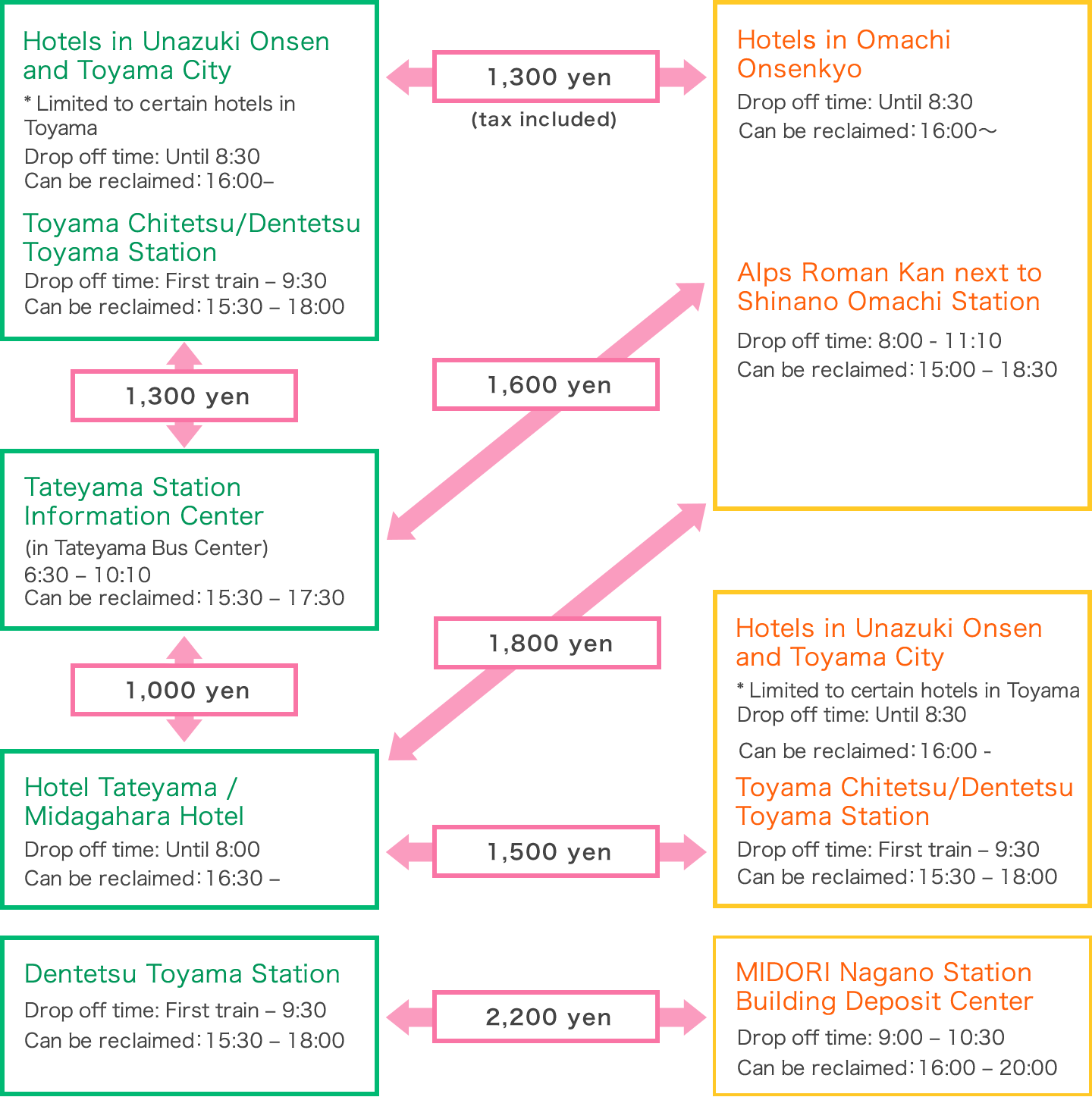 Service Period (as of 2017)
Service available : April 15th – November 10th.
Hotel Tateyama & Midagahara Hotel: April 29th – November 10th.
Dentetsu Toyama-Nagano Station: April 15th – October 31st.(4/15-10/31)
Places that Provide This Service
Dentetsu Toyama Station
No reservation required. When using a baggage forwarding service, time is needed to arrange so please arrive to board 20 to 30 minutes early.
Hotels in Toyama City and Unazuki Onsen
Hotels (you must reserve this service when you check in)
[Toyama City]
Toyama-Chitetsu Hotel / Toyoko Inn Toyama-Ekimae1 / Toyama Dai-ichi Hotel / Toyama Excel Hotel Tokyu / Canal Park Hotel Toyama / Toyama Manten Hotel / APA Hotel Toyama / ANA Crowne Plaza Toyama / Hotel Grand Terrace Toyama / Daiwa Roynet Hotels Toyama / Comfort Hotel Toyama Ekimae / Hotel Route-INN Toyama Ekimae
[Unazuki Onsen] Unazuki Kokusai Hotel / Unazuki Suginoi Hotel / Hotel Togen / Enraku / Hotel Kurobe / Entaijiso / Green Hotel Kisen / San Yanagitei / Feel Unazuki
Tateyama Station Information Center
Drop off time
6:30 – 10:10 (No reservation required)
Can be reclaimed
15:30-17:30
*16:00-17:30, forwarded at Tateyama Station office
Drop off point
(reception counter for baggage forwarding service)
Hotels in Omachi Onsenkyo
Hotels (you must reserve this service when you check in)
Kurobe Kanko Hotel / Hotel Yamadaya / Ryokan Kanoya / New Kawachiya / Tateyama Prince Hotel / Oribana / Azumino Kawasyo / Hotel Yumenoyu / Hotel karamatsuso / Ryokusui-tei KEISUI / Kurobe View Hotel / Kuroyon Royal Hotel / Alpine Route Hotel / Nanakuraso / Takenoya
Shinano Omachi Station "Alps Roman Kan" (Next to JR Shinano Omachi Station)
Drop off time
8:00-11:10 (No reservation required)
Can be reclaimed
15:00-18:30 (17:30 during Nov 6-10)
Yamato Transport Co., Ltd. MIDORI Nagano Station building deposit center
Opening hours / 9:00AM – 8:00PM
Procedures for hand baggage forwarding service may take time. If taking Shinkansen or bus, please arrive with time to spare.
Takes 5-10 minutes to get to east exit bus stop for Ogizawa Station-bound Express Bus.
See Nagano Station – Ogizawa Station Express Bus timetable here.
Drop off time
(No reservation required)
Reception time for same-day baggage forwarding: 9:00 – 10:30.
Hotel Tateyama and Midagahara Hotel
Drop off time
Check your baggage at the front desk by 8:00 a.m.
Contact Us
Tateyama Kurobe Service Co., Ltd., Alpine Porter Service
Phone +81-76-464-1788 / FAX +81-76-464-1033
Baggage Forwarding Form
For faster service at the counter, please download and print this PDF document.
Fill in the check-marks.

Caution
This service is not available at Ogizawa station.
We cannot, and will not be responsible for baggage including cash, valuables, and fragile materials.
Please be aware that there are times when we cannot forward baggage on time due to bad weather or road congestion.
Registration and administration takes time. There are times where you cannot get on the train at the last minute. Please arrive early to check your baggage so that you can be ready to depart, at least 20-30 minutes before the scheduled time.
How to Fill Out the Baggage Forwarding Tag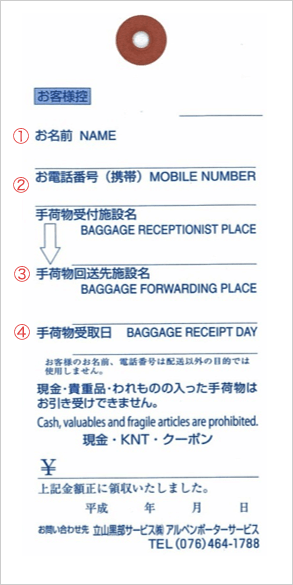 The tags are available at servicing hotels and stations.
Please fill them in using Japanese or English.
①NAME
Guest's name (if destination is a hotel)
②MOBILE NUMBER
Cellphone number in Japan
③BAGGAGE FORWARDING PLACE
As some hotels have similar names, please check and write the name of your destination carefully.
④BAGGAGE RECEIPT DAY
It is possible that your baggage will be forwarded on the subsequent day, rather than the same day.